by AdultDatingSites.org Staff
If you're single and looking for romantic partners, or a couple looking to swing, Adult FriendFinder has everything you need to satisfy your carnal desires. Truly, though, Adult FriendFinder is a great place to meet people, no matter what you're looking for. The members on Adult FriendFinder range from friendly cuddlebugs to kinky dominatrices with everything in between. The site is most specifically geared toward adult, sexual content, and has gained a reputation of being a playground for people looking for discreet sexual relationships. Whether you're a fetishist looking for like-minded people, a couple trying out new things, or just an average Joe looking for fun, Adult FriendFinder can put you in touch with the people you want to meet.
The sign up process is impressively quick—within five minutes, you can be browsing local singles! Your registration as a standard member involves giving your birth date, zip code, and email address. After creating a username, you simply fill out a few descriptions of yourself and what you are looking for in a potential mate/s. The process is additionally streamlined by offering you preference boxes to click on. The website offers you several options for introducing yourself, including profile pictures, video, and audio greetings.
All standard users are allowed to build a profile and receive emails from paying members, as well as use the general forums and instant messaging. If you upgrade, however, you're granted additional features. Of course, for the premium memberships, you'll have to enter your credit card information. Either way, you'll be allowed to browse and instant message local hotties in your area. (See screen shot below.) Although you can view someone's profile picture for free, to see additional photos, you'll need a premium membership.
Profile Search
As soon as you sign up, you're a standard member. This is absolutely free, but will limit your options as far as contacting other members. To truly utilize all of the site's unique features, you'll have to upgrade to a premium membership. The three premium memberships are Silver, Gold, and VIP (which is only offered as an upgrade to current Gold members). A Silver membership will cost you about $20 per month, and offers access to all members' accounts, in addition to boosting your priority in member searches. (in other words, your profile is higher on the list of search returns). The Gold membership gives you more storage space and interaction with members' profiles and videos, while giving you an even higher priority than the Silver members in searches. The Gold membership costs around $30 per month, but many long-term packages offer rates as low as $9.95 per month.
Standard Membership - FREE!
Silver Membership - $20/month
Gold Membership - $30/month
Even the features that are included with standard membership are fairly impressive. The site's instant messaging service allows for some fun flirtation and an opportunity to get to know your object of desire before making that first phone call or meeting up in person. The member blogs are also good places to observe and investigate topics of sex, and will give you a better feeling for the website's culture. Also, receiving flirts and messages from hot local members is pretty gratifying, since it allows you to talk to them personally.
These features, however, pale in comparison to the premium membership features. For starters, instead of waiting around until somebody messages you, you can aggressively pursue the objects of your desire by sending them a message. Premium features also include the ability to "flirt" other members. Think of flirting as a (more) suggestive version of Facebook's "poke." It lets other members know that you've checked out their profile and are interested in what you see. Premium membership also allows you unlimited access to profile views and pictures from other members, private chat, webcams, and your own personal blog. Perhaps most appealing, purchasing a premium membership allows you to enter a specific search (fetish, height, body type, hair/eye color, etc.), which will put you in touch with your exact physical type much faster.
Standard Member Features
Profile can be viewed by all members
Can respond to paying users' emails
Can view sexy profile pictures
Unlimited instant messaging
Access to chat forums
Access to other's blogs
Premium Member Features
Can view any profile
Can view any number of sexy pics
Can view unlimited videos posted by other members
Increased rating/priority in user searches
Can message any member
Unlimited messaging daily (for Gold members)
Unlimited message storage (for Gold members)
Can flirt any member
Ability to create your own blog
Specific searches by sexual interests, race, hair color, etc.
Access to webcams
Chat Feature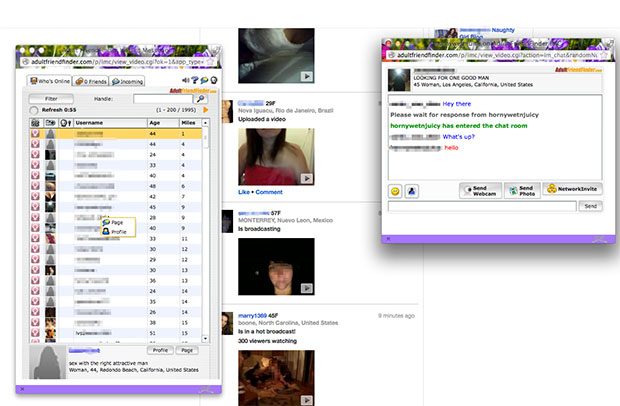 Adult FriendFinder
connects sexually active people in ways that simply weren't possible even ten years ago. Whatever your desires are, it seems,
Adult FriendFinder
will accommodate your tastes. Though it claims to be a site for any and all, the site is most noteworthy for its ability to bring together sexually active members for discreet partnerships and group fun. That being said,
Adult FriendFinder
absolutely delivers on its goal of introducing people to fun singles and couples. The website is stacked with features, even for free members, which allow you to interact with local cuties in unique ways. To truly see all that
Adult FriendFinder
has to offer in terms of internet dating, though, your best bet is still to become a paying member.