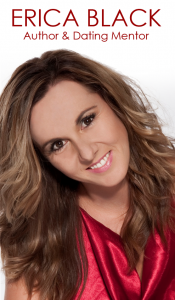 Interviewed by Eric J. Leech
Erica Black is a dating expert who has traveled across the world, and discovered that success in dating is a combination of polished social skills, playfulness (i.e. cheeky smack), confidence, and a vibrant personality. While there may not be a shortcut to achieving these characteristics, Erica's online programs – exclusively men-only + women-only – available through her site 1stdate.com.au, believes that anyone can be a sexy, confident dating partner, and you don't need a list of workout programs, corny pickup lines, or cheap tricks to get there. We tunneled our way through the center of the earth, to find ourselves on this Aussie's back porch, where we asked her to share some of her key strategies to pursuing sex and chemistry on adult dating sites.
Adultdatingsites.org: What do you think women are really looking for when frequenting adult dating websites? Is it just sex, or something else?
Erica Black (EB): There are different forms of adult sites. If you are referring to sites that are aimed at just getting sex (the "let's-just-fuck" sites), then, more than likely, those women are:
Living overseas, in challenging circumstances, and looking for a man with money to get them out—or—scam the man for money. Either way, these women rely on the desperate male.
Other women may have had a very disturbed upbringing and feel this is their only form of connection. Such imbalance is as corruptive to life quality as drug addiction.
Some women may have sex addictions that can only be met by several men.
There are unhappily married women seeking an affair. Generally, they are seeking some kind of connection or validation beyond sex.
Any man would be dabbling with danger in the first three cases.
The emotionally stable, empowered woman seeking sex, and sex alone, does exist. But you will rarely find her on such a sex dating site. Her "dance card" is probably full of guys from various areas of her life. Generally speaking, women almost always have an agenda outside of the sexual. So, men should be aware of that aspect when considering these sites as a dating alternative.
There are women who feel, at some point, that they, too, don't want a relationship. They might also visit these sites. Based on my credo of "Chemistry, Sex and Connection mean the same thing to a woman," such a woman might succeed at keeping sex simple, for a while. I'm confident in saying that if this woman finds a man on a sex dating site, and she is strongly attracted to him; she is going to want more than just sex sooner than later. If she keeps saying she doesn't … well … she's just kidding herself and creating a world of unhappiness that will crush her self-esteem.
The majority of women don't find it hard to "get laid," if that's all they want (this never remains what they are after for very long, by the way). They should save their money and simply go out with the girls.
Adultdatingsites: For the man seeking sex on a first date, do you think that adult dating websites offer an advantage over a regular site, considering most women are choosy about whom they sleep with?
EB: Generally, women need some form of chemistry/connection to sleep with a guy. A man might have a slight advantage on these sites over the standard dating sites. However, as I noted for question one, some women do go through a stage when they simply don't want a relationship … but sexual needs still drive them.
Generally, this is a phase. At some point, a woman will start looking for her companion, the man that makes her heart sing. If she connects with a guy sexually, and THEN shifts to that mindset, he might find himself getting more than he bargained for.
Adultdatingsites: What advice would you give a woman who's considering a dating website for the first time?
EB: There are very important steps that I cover in my course: IRRESISTIBLE YOU. These steps will create confidence and safety for a woman choosing to date online. One danger zone, which can lead women to feeling hurt and that "all men are bastards," is understanding that online attraction is completely different to offline attraction. Women need to be very careful that they lead with the heads and not their hearts when dating online … and keep it REAL. This unit of the course list specific DOs And DON'Ts for not giving away too much information, offering screening questions to make good connections, and making moves towards face-to-face. That's where the real magic happens.
Adultdatingsites: How can a woman get back on track when a first date goes bad?
EB: The same way a guy should. Pick herself up and dust herself off. In today's modern dating world, a man or woman could have three dates in a day. It's almost like a shopping aisle. A girl will easily make her way forward into better dates with a healthy, fun attitude like, "Oh well; shit happens … next!"
Like anything in life, things can go wrong. Perhaps she met someone online and then offline there was no attraction. Maybe it was a blind date. What if something occurred on the date that was a complete turn-off for both of them? It's important to learn from it and move on.
Never take anything personally, and always think about what you could have done better, for next time.
Becoming that confident person is the key. It's the mindset that we teach people in our courses at 1st Date.
Adultdating sites: From your experience, what do you think are the three most dangerous women a guy could run across?
EB: We cover this specifically in the course for guys: GET INTO THE SAC. There, we discuss what drives these different types of women, how to identify them and what to do about them. But here are a few guys to be wary of:
The power bargainer: she likes to manipulate men, often through sex
The gold digger: she knows how to blind a guy to her faults, while handing over his cash
The thrill chaser: she's out for a little adventure, but really she's just using the man
The man-eater: she's got issues, and she'll use guys to justify her bitterness
Adultdatingsites: A lot of women play hard to get. What are the signs when a guy should just give up?
EB: This can be tricky because some women really think it's attractive to play hard to get. They mistake "enticement and mystery" for being vague and difficult.
So, guys—certainly watch out for women who are hard to pin down, e.g. she won't commit to a time until the last minute; be wary of women who are sweet on one date, then in a foul mood the next time you chat. Unless you've done some to genuinely upset her, like eaten all of her favorite treats, or crushed her prize orchid, her moods should not be taken out on you.
The most important thing for guys is to remember that dating should be fun. If you've had a good time, then phoned her later to chat or arrange another get-together, and she gives you the run around—be wary. You don't need a woman who plays games, uses you, is perhaps dating several people at once and has bumped you down on her list. Give her one more chance, and if she still confuses you, step away. She's either too shallow to be real with you, or she's too confused to share a good time with. Do NOT be drawn into rescuing her from her a) previous boyfriend, b) family issues, c) stressed life/budget, d) or whatever else might be complicating her life.
Adultdatingsites: Do you think it is better to get to know someone really well online before going on a date, or is it better to get the basics out of the way, and let chemistry (physical date) do the rest?
EB: I think there are certain questions that should be asked online before you take it offline. These questions are important because they give each person a few clues to whether it's even worth taking it offline. These questions will tell them things about the other person's values, morals, their positive or negative thoughts about the opposite sex.
After all, it takes a lot more than chemistry to form a lasting relationship and sometimes that chemistry can actually get in the way of seeing a person for who they really are.
Adultdatingsites: In your experience, what is the one thing that most men are clueless about when it comes to impressing a woman on a first date?
EB: There is so much pressure on a man to impress on a 1st Date, and so much so that I am forever telling women to help him a little along the way, so he can bring his best to the table. After all a relationship is a two-way street, isn't it?
BUT …. at the same time, a good man will want to make an effort (and good on him for wanting to do so). So, based on that, many men try a bit too hard. For example, there is absolutely no point taking a woman on a 1st date to an expensive restaurant where each meal costs him a days/week's wage, then the second and third date are spent in his apartment watching a video with a microwave frozen meal. Guys, make the 1st date a representation of yourself. Be yourself, but make it your best self. If she doesn't appreciate that, then she's not worth your precious time.
Adult dating is a careful balance between chemistry and sex. However, at the end of the day, a relationship is what you are ultimately dealing with, whether you like it or not. As Erica said, most women are looking for one special man, even though her efforts may be disguised (even to her) within a series of one-night stands.

Visit 1st Date to receive free newsletters filled with helpful dating tips, and the opportunity to sign up for one of Erica's 12-week dating boot camps, to get your dating butt back into shape!