by AdultDatingSites.org Staff
With several features, Passion is a well-rounded online dating website of worthy of its reputation. Even for a standard (non-paying) member, Passion offers you a plethora of options to contact the objects of your desire. Of course, the Gold membership easily eclipses the features offered on the basic membership, helping you to more aggressively pursue your match. However, the Gold membership is priced very competitively when compared with other adult dating sites. This means Passion won't hit your pocket book too hard while offering you some naughty fun in exchange.
The sign-up process for Passion is very straightforward and simple. The site asks you some standard information about who you are and what you're looking for: your sex, gender, age, and location. After that, you enter your email address, choose a username, and create a password.
The final (and most personal) step of your registration involves giving the site a physical description of yourself. These descriptors include everything from your height to your endowment length or cup size. The site also asks for your race, marital status and sexual preference at this juncture. You can also put whether you drink or smoke, and how much schooling you've completed. Of course, for all of these, you may also decline to state. Then you write out a tag line (your written introduction to other members) and a brief paragraph about yourself. Then, just verify your account by clicking on the link they email you, and you're set to go with your free membership!
If you decide you want to upgrade to Gold membership, you will have to enter all your pertinent credit card information. The website automatically renews your membership, unless you cancel it in advance through their customer service.
As soon as you sign up and verify your email address, you become what's referred to as a standard member. Passion's standard membership is free, though it does limit your interaction with Passion's other members. In fact, to see another member's profile, you'll need to pay a one-time fee of $2.95 for a 30-day pass. To get in touch with other members (not to mention many other premium benefits), you will want to purchase a Gold membership. For a single month, the Gold membership costs $29.95. Though, wth bulk packages you can get an 18-month plan that will only cost $9.95 per month — extremely competitive as far as adult dating sites are concerned. Passion also tempts you by offering a 110% refund if their Gold membership doesn't satisfy you. The site also offers a number of profile enhancements, which may be purchased in addition to your Gold membership. One enhancement allows your profile to be viewable to all members (even standard members). Another enhancenment highlights your profile in search returns, so that more people notice your profile when they search. The final enhancement gives you access to hardcore porn movies. All of these profile enhancements range in price from $8.95 - $19.95 depending on the particular add on and length you purchase it for.
Memberships
Standard Membership - FREE!
Gold Membership - $9.95 - $29.95/month
Profile Enhancements
Contact from Standard Members - $8.95 - $19.95/month
Highlighted Listings - $8.95 - $9.95/month
Hardcore Porn - $9.95 - $18.95/month
Though the standard membership will limit you in terms of contacting other members, it offers plenty of alternatives to the traditional dating site features. For instance, Passion allows you access to their chat service, letting you chat with local cuties in real time. Depending upon the capabilities of the person you're chatting with, you may even be able to video chat with them to get a better look at the person you're interested in. Also, you're allowed to respond to incoming emails, which will get you chatting with people who want to meet you. You can also "hotlist" other members, which is similar to "speed dial" on your phone, putting your favorite hotties at your fingertips. If you do upgrade to Gold membership, you'll have a much more active role in your Passion experience. Most importantly, you can contact and view other members' profiles as much as you want. This also includes sending flirts, a playful way to inform the other person that you want to do naughty things to them. Additionally, you can see members' hot photos and watch unlimited hot broadcasts. You're also allowed to send friend requests, yet another way to stay close to the people you're most interested in. Include the add-on features discussed above (highlighted listings, standard member contact, and hardcore porn) and you'll have several options in terms of creating a profile that's exactly what you want out of an adult website.
Passion.com Inbox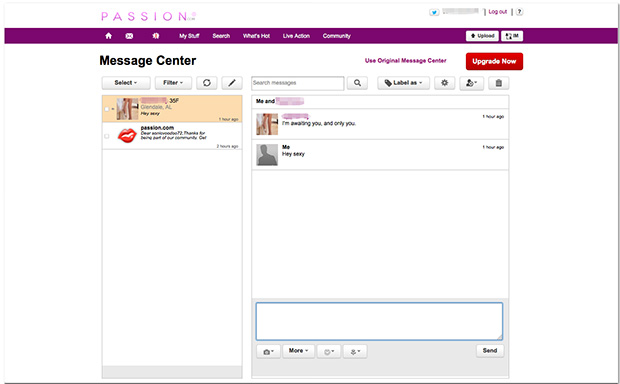 Standard
Chat
Respond to Gold member emails
Search and browse potential partners
Hotlist others
Participate in blogs and groups
One hot video view per day
One other broadcast view per day
Gold
All Standard features, plus…
Unlimited hot video views
Unlimited other broadcast views
Send emails
Send flirts
See hot photos
Read complete profiles
Send friend requests
Premium customer service
Profile Search Results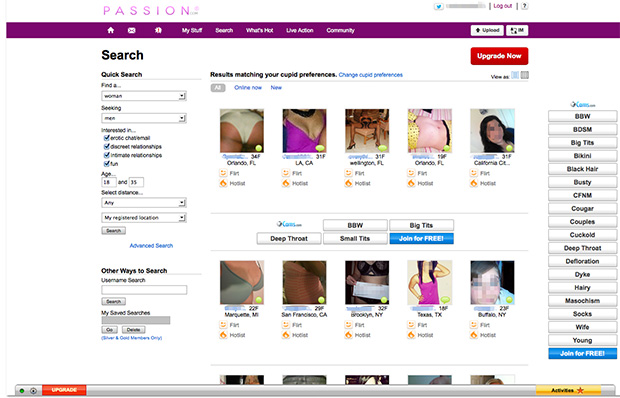 Passion
puts you in touch with the erotic community without sucking your bank account dry. The prices are extremely reasonable for even the stingiest of prudes. Even without a Gold membership you'll find plenty of interesting ways to stay in touch with people you meet on
Passion
. Given all the add-ons, the premium membership may still be the way to go, especially if you'd rather contact people instead of waiting for them to contact you. Either way, you'll find lots of interesting new hotties eager to meet you on
Passion
.
© 2013 AdultDatingSites.org | All Rights Reserved © 2013
This area is for 18+ and may contain links to adult materials, Do Not Enter unless you're over 18.
Disclaimer: This website contains adult material. All members and persons appearing on this site have contractually represented to us that they are 18 years of age or older.
18 U.S.C. 2257 Record Keeping Requirements Compliance Statement