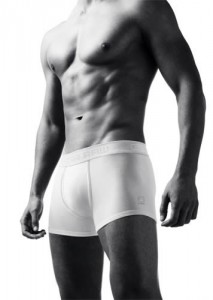 Got small penis?
Most every guy has stared down at his winky, and wondered why in the hell it had to be so small. For one thing, your viewing angle is not optimal. Another thing is that surveys suggest only 40 percent of average-sized men are satisfied with their Peppy, which according to the National Health Services (NHS), should stretch somewhere between 5.5 to 6.3 inches when excited. For the majority of women, inserting an airline jet into Mount Saint Helens is exciting enough. However, if your 747 jet looks more like something fashioned by the Wright brothers using a few leftover parts from your gene pool, Ricky Bledsoe, author of Penis Envy, may be able to help.
Ricky's early sexual experiences were just as traumatizing as anyone else. Perhaps, even more so, considering one woman pointed out his manhood was as satisfying as a stick of gum. Okay, to be truer to his feelings, a stick of gum that was previously chewed, pulled in half, and squished to the carpet of a New Yorker Taxi cab for three weeks. This is around the time Ricky realized he had two choices. Either put out five figures to have his Johnson sliced at the trunk, pulled out a couple inches, and then sewn back together, or find an alternative means to satisfy the ladies. He chose the non-surgical route, and this is where we asked Ricky to share three suggestions on how to compensate for a small manhood.
Tip one: Avoid Premature Ejaculation
"You gotta release the floodgates before you get anywhere near her," says Bledsoe. "You gotta get that tension off of you. Your cool and calm demeanor is what dictates her response to you, and it's the only way you're gonna last if the night goes well."
Adultdatingsites.org Guy With a Small Penis: Yes, but I saw how that technique can backfire in the film, Something About Marry.
Ricky Bledsoe (RB): You gotta be completely spent before you even lay eyes on her. That's gonna buy you three extra strokes.
Adultdatingsites.org Guy: Okay, that's about my average—three strokes.
RB: Hey, that might be just enough to get her to climax. I don't care if Halle Berry is in front of you; If you just finished choking the chicken, you can have a relaxed, laid-back attitude, and that's what attracts girls in the first place. For more details on this, read chapter six in Penis Envy, which is called Don't Let Premature Ejaculation Be Another Reason To Run Her Off – (also blogged about on the website).
Adultdatingsites.org Guy: Okay, but my real problem is women falling out of bed laughing, before I can even get it in.
Tip Two: Make A Lot of Money
RB: "For every $100K you make, she'll forgive at least one inch.
Adultdatingsites.org Guy: But what if you've only accomplished becoming the head dumpling fryer at a chicken dumpling establishment?
RB: Read my book, which explains in detail how to Make A Lot Of Money.
Tip 3: Your Attitude—Make it All About You, Not Her
RB: You gotta exude confidence. Guys are all into a woman's looks, and then go gaga over a pretty one, putting all their eggs into just one basket. Women seem to like it better if you don't compliment them too much. For instance: half of her best jokes, don't laugh. Matter of fact, show her she has room for improvement, especially the most gorgeous type that really gets your motor running. You need to figure out a subtle way to downplay her looks, or she and her big butt are gonna walk all over you.
Adultdatingsites.org Guy: Well, I thought I wanted big booty women to walk on me.
RB: Yes, but only when you're both naked.
Adultdatingsites.org Guy: How in the hell are you going to accomplish that, when women have a lot of complicating anti-sex devices to overcome, like bra's and underwear? How in the hell does a guy unlatch those things, anyway?
RB: If you're nervous and fumbling all over the place trying to make a good impression, you need to get that engine back into idle mode (see tip #1, above).
Adultdatingsites.org Guy: One time I made a girl lay in a puddle of mud, so I could cart a 12-pack of Budweiser into my trailer home, with hopes of then getting her drunk enough to have sex with me.
RB: You want to be calm, relaxed, and somewhat reserved. She wants to have a conversation with a confident man. The last thing she needs is to feel rushed or hurried into sexual or intimate contact. If you can slow yourself down a bit, then she will be the one who is in doubt of her sex appeal, and next thing you know, she's rushing you into bed!
Adultdatingsites.org Guy: Great, then all I'll need to do is blow up my bed!
Read 98 more ideas on how to compensate for a tiny "Jimmy" in Ricky's book, Penis Envy:101 Things To Do if You Think Your Penis is Too Small.
Photo via Matt Sabandar