by AdultDatingSites.org Staff
Where most casual sex dating sites have earned a reputation for being serious, Social Sex has developed a more fun and inventive platform for singles and couples. To do so, Social Sex has concocted different methods of doing things to make them more interesting and engaging. Even how you sign up for this website is a sort of game! The end result reminds users that sex isn't all whips and chains, but can be a fun, truly casual experience. So, if your goal is to have fun with attractive people in your area, you may want to take a look at Social Sex.
Instead of the normal sign-up rigmarole, Social Sex offers you an interactive sign-up process. To the left of the screen, an attractive young lady removes a piece of clothing with each information screen you pass (gender, location, age, etc.) until she is down to her bra and underwear. Following these general questions, your hostess will then prompt you with more specific questions about your love such as "Who would you like to have sex with?" and "How often do you have sex?" These questions will get more specific as the website tries to determine your preferences. The bonus of answering all these questions is that the hostess finally removes her top in the left margin of your screen! After submitting your email address and choosing your screen name, the site will email you your password, and you're ready to browse local singles.
In order to contact local singles, though, you'll need to purchase a premium membership. Since this is a premium feature, you'll obviously need to give them your credit card information. Having a premium membership will open up entirely new search options and site features for you as you continue to browse for partners.
Sample Profile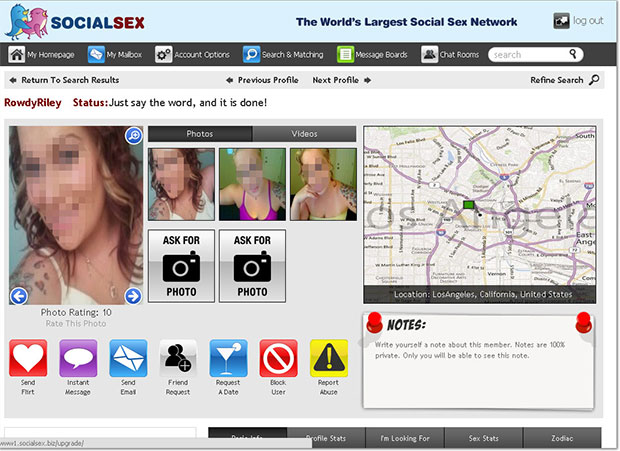 As soon as you sign up, you are a standard member. This is another way of saying "free" member, though, as it will restrict your options as far as contacting other members. The premium memberships offered by Social Sex are the Silver and Gold membership plans. Pricing varies depending on which package you go with and how many months you purchase at one time. A three day trial of the Silver membership will only run you $1.95, but clearly lasts only a short time. In general, the Silver membership costs $29.95 per month. Offering more features, the Gold membership typically costs $34.95 for a single month. If you like what you see, you can always upgrade to a bulk package, which will give you the Gold membership for only $12.50 per month.
Standard Membership - FREE!
Silver Membership - $1.95/3 Days—$19.98/Month
Gold Membership - $1.95/3 Days—$19.98/Month
Even with the free standard membership, Social Sex will offer you enough fun features to keep you interested for quite a while. Most importantly, the site allows you to browse local matches in your area to see what's out there. Though you're limited to a certain number of profile views per day, you can check out a few profiles and browse public pictures. You can friend request other members, but can't email them without a premium membership. The standard membership also allows you to build up your own profile and receive email from the sites other members. The next step up, the Silver membership promises much more than passive interaction — including a 100 Day Hook Up Guarantee! The promise hardly seems far-fetched, since upgrading allows you to email, instant message, and chat with paying members. Or, you can just ask them out on a date as soon as you see their profile, since there's a button specifically for that. Additionally, browsing other profiles will no longer be limited on a daily basis as with a standard membership. Instead, you can browse as many profiles as you'd like. Better than even the Silver, the Gold membership package will make your profile featured on all results. In other words, any search that another member conducts that matches your area and/or physical description and/or sexual preferences will see you in their search results. Your profile will also be ranked higher in search returns than standard and Silver member profiles. Your Gold profile also allows you access to webcams, which allow you to flirt (or potentially more) with other Gold members face-to-face and in real-time. As an added perk, Gold membership gives you access to hardcore porn to keep you busy in between trysts, through Social Sex's affiliates.
Standard
Search potential matches
View other member's profiles
Upload photos
Receive email from members
Silver
All Standard features, plus…
100 Day Guarantee
View and Contact all members
Instant messaging and chat
Gold
All Silver features, plus…
Be Featured on all search results
Access to hardcore porn
Access to member webcams
Profile Search Results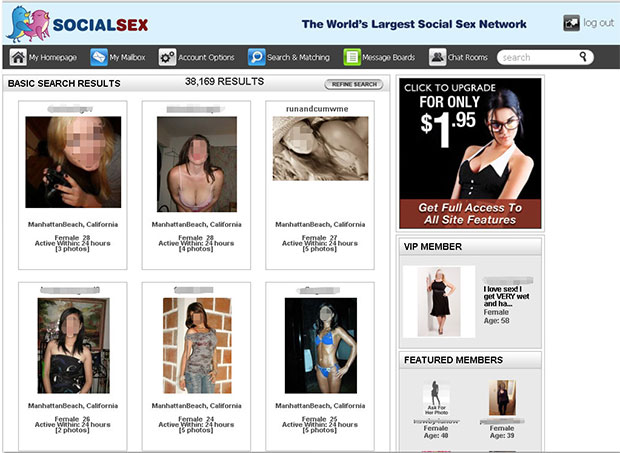 SocialSex.com
is a good site to meet interesting and fun people looking for discreet relationships. More so than other sites in the adult dating realm,
SocialSex
has a fun and friendly bent. Utilizing unique features and techniques, the site allows you to discover, connect with, and meet all sorts of sexually adventurous people. The site is also a little less expensive than some of its competitors, which allows you to try it out with a smaller investment. The format of the site is extremely user friendly and will make it very easy to see who's into what in your area, especially if you get a paying membership. If you give
SocialSex.com
and their 100 Day Hook Up Guarantee a whirl, you'll be able to participate in this sexy arena with absolutely nothing to lose.